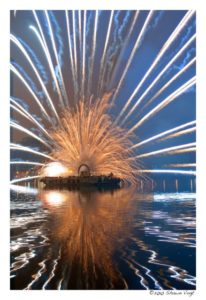 I don't know about you, but for me New Year resolutions have lost their power. When I think about making a resolution for the new year, it comes with a lot of baggage. Some of this baggage is my own and some comes from society's depictions and examples of resolutions that are inevitably broken and forgotten.
So this year, I suggest we change the way in which we proclaim to change! 🙂 What drives a resolution is a sincere, authentic, committed desire for something different in our lives; however, the usual statements we make for ourselves:
"I want to eat healthier"
"I want to lose weight"
"I want to carve out more time for myself"
"I want to exercise more"
"I want to spend more time with my family", etc. etc. etc.
… these just doesn't cut it! I mean really… do those statements evoke empowerment and commitment in you?? Frankly, they don't do it for me. It's no wonder many of us 'fall off the wagon' in a matter of months!
So what do I propose? A Resolution Evolution!! (Not to be confused with Resolution Revolution which I did consider because it also sounds cool but it has a note of aggression and violence to it so I gave it the 'thumbs down'. 😉 )
I prefer to EVOLVE our thinking about how we see ourselves in the New Year in a more compassionate and mindful manner. And the way we do that is by tapping into how we want to FEEL in the New Year. It's a simple shift in perspective but it's a powerful one! Instead of focusing on a thought or statement or even intention, let's focus on the FEELING behind that thought, statement or intention.
For example, instead of focusing on "I'm going to eat healthier", connect with how you will FEEL when you eat healthier… feelings of comfort, lightness of body, strength, vitality and energy, etc. And instead of focusing on "I want to carve out more Me-Time", imagine how you will feel when you have the extra time for yourself…. more relaxed, at ease, more playful and fun, etc.
By tuning-in to the 'frequency' of the better feelings for which we strive through our resolutions, we send a powerful signal to the Universe to deliver! Not only that, but staying connected to those feelings keeps us inspired, hopeful and committed; otherwise, it's too easy to get caught up in doubt and impatience (that it's not working or happening fast enough!)
I'll admit… it's a fairly simple concept that has it's challenges in the execution. So to help, I have prepared a short visualization meditation for you to follow. And if it resonates with you, you can repeatedly use it through out the year, especially when you feel your commitment may be dwindling!
Here's the audio… I hope it is helpful:
Resolution Evolution Visualization
My hope and wish for you in this New Year is to EMBRACE YOURSELF… the empowered, joyful, wise, authentic and evolved YOU!
I look forward to sharing more YOGA with the 'new' you in 2017!
Be Safe.. Be Well.. and ENJOY! 🙂
Sheetal